Beautiful Sun Peaks Slopeside Condo in Stone's Throw - just step outside and ski!!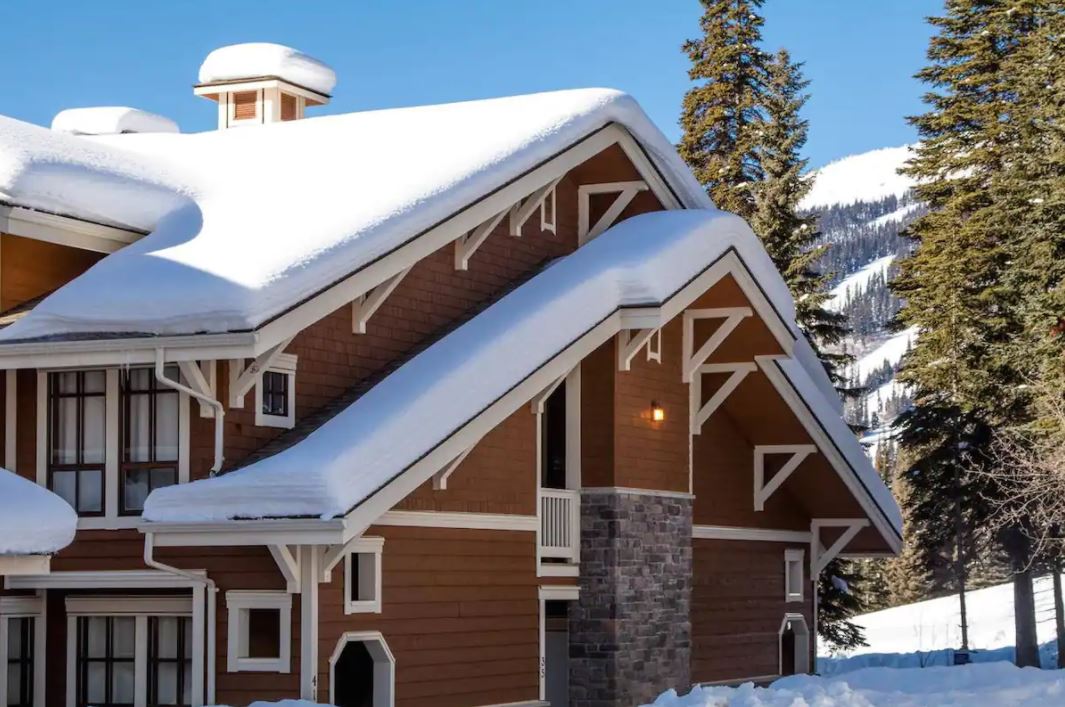 Beautiful Sun Peaks Slopeside condo in Stones Throw - Best ski-in/ski-out location outside of the village core
---
2 Bedroom, 2 Bathroom Sun Peaks condo in Stone's Throw, Excellent Ski-in/Ski-out Location, Beautiful Views, Private Hot Tub, Family-Friendly Vacation Rental, Sleeps 7


---
This beautiful Sun Peaks Slopeside condo (2 bedroom) in the popular Stone's Throw complex is a true ski in and ski out condo in what many consider to be one of the best overall ski-in/ski-out locations outside of the village core.
Situated just east of the main village and right across from the free toboggan hill, snowshoe trails, nordic ski centre, mountain bike trails and both the Morrrisey Express and the Orient chairlifts, this is a dream location for those who want immediate access to the hills. 
Step out of your front door, grab your skis or snowboard from your exterior ski locker, walk less than 20 steps, strap on your gear and ski right down to your choice of ski lifts both of which will give you easy access to the main village. 
It is spacious, bright, on the ground level, and can comfortably sleep up to seven people. It has a queen bed in the master bedroom, a tri-bunk (twin over double) in the second bedroom, and a comfortable double sofa bed in the living room.
The open concept living room, dining room and kitchen areas allow everyone to feel connected as you prepare a delicious meal in the well-stocked kitchen. There is also a barbeque located just outside the living room doors on the patio for grilling all year-long.

And a Sun Peaks vacation isn't complete without having your own private hot tub, which is accessable either through the living room or the master bedroom. The hot tub offers a spectacular view of Mt. Morrisey and is a wonderful way to end your day of activities in Sun Peaks no matter the season.

Owners Remo and Claudine have ensured their Sun Peaks slopeside condo is well stocked & family-friendly, and as always with BestSunPeaks, offer excellent service to their guests.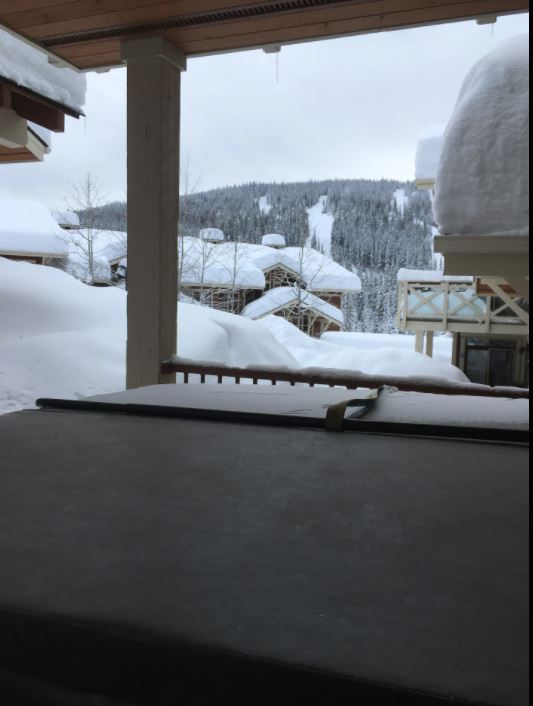 Enjoy the views of Morrisey from your private Sun Peaks slopeside hot tub
Their 2 bedroom slope-side condo offers one secure underground parking spot, and extra visitors spots may be available nearby. Clearance height for the parkade is 7'6" or 2.29m and  additional over-height and/or over night parking is available across the street in the P5 parking area.

The village is just a leisurely 10-15 minute stroll away along the Valley Trail network and the free ski shuttle bus stops right out front during the main ski season. 
Sorry no pets, and there is no smoking in the condo or anywhere in the Stone's Throw complex.
The owners of this beautiful Sun Peaks Slopeside condo are very responsive and have made sure it is well-stocked and family-friendly.
This open floor plan condo comes fully stocked with everything needed to ensure you have a 'Best Sun Peaks' vacation! 
For Sun Peaks summer vacations, Stone's Throw is also located on the 16th fairway of the Sun Peaks Resort Golf Course, which boasts of having the highest elevation tee in BC.
Book direct with the owners through BestSunPeaks for Best Sun Peaks Slopeside Pricing and save 10% or more compared to the VRBO or Airbnb pricing on this wonderful 2 bedroom condo - see the Sun Peaks slopeside condo contact form below.
---
---
  Sun Peaks Slopeside Condo - Guest Reviews
5 Star Condo - great slopeside location!

5 star is the best description for Remo's Condo. Close to the Orient and Morrisey chairs. The place is well stocked, communication was quick, and the condo was very comfortable. We had a great time and will certainly return.

Michel, February 2022
Amazing Condo. Amazing Location!
Remo's townhome was amazing. We were only there for the weekend and skiing one day, so quick ski out access to the hill gave us the perfect early start to what turned out to be a busy day on the hill. Ski storage is right there with the unit, so it was absolutely no muss, no fuss and straight into the hot tub!! I have zero negative things to say and would happily stay again in the future!! (Hopefully for a longer stretch!!)
Thanks Remo. 👍🏻
Marci, February 2022
Everything was perfect!!
Remos place was great! The kitchen was fully done up to cook anything in, the hot tub was such a treat, beds were extremely comfortable. It was perfect and we really enjoyed it. Remo was great as well, I had a few questions through out our stay and he answered immediately. Highly recommend! Will definitely stay again.
Michael, January 2022
For more up-to-date reviews, see below:
---
Sun Peaks Slopeside Condo - Photos
Click on the area below to view the full Sun Peaks slopeside condo Vacation Rental photo album on Houfy, or scroll down to see additional photos of this beautiful condo.
View of Stone's Throw from the Orient Chairlift - just steps away
- family-friendly 2 bedroom Sun Peaks slopeside condo in Stones Throw 
- beautiful views overlooking Mt. Morrisey 
- free underground parking space
- just steps from the slopes, tobogan hill, nordic ski centre, snowshoe trails & mountain bike trails
- private hot tub
- Just steps from the village but close to everything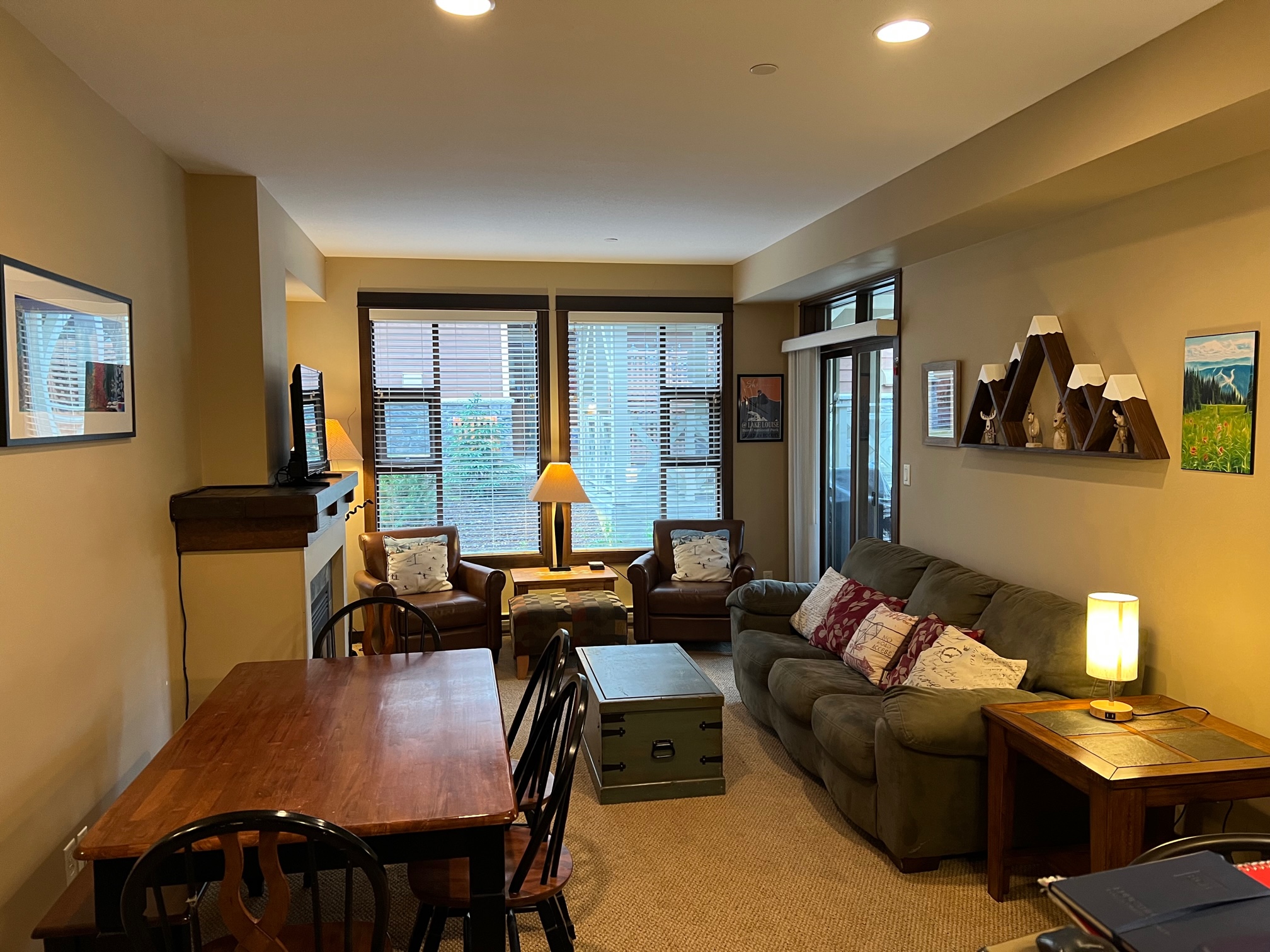 Bright & comfortable living room
- wonderful open concept living room with plenty of room
- access to your private hot tub and barbeque
- warm light through the many windows
- propane fireplace
- flatscreen television

- sofabed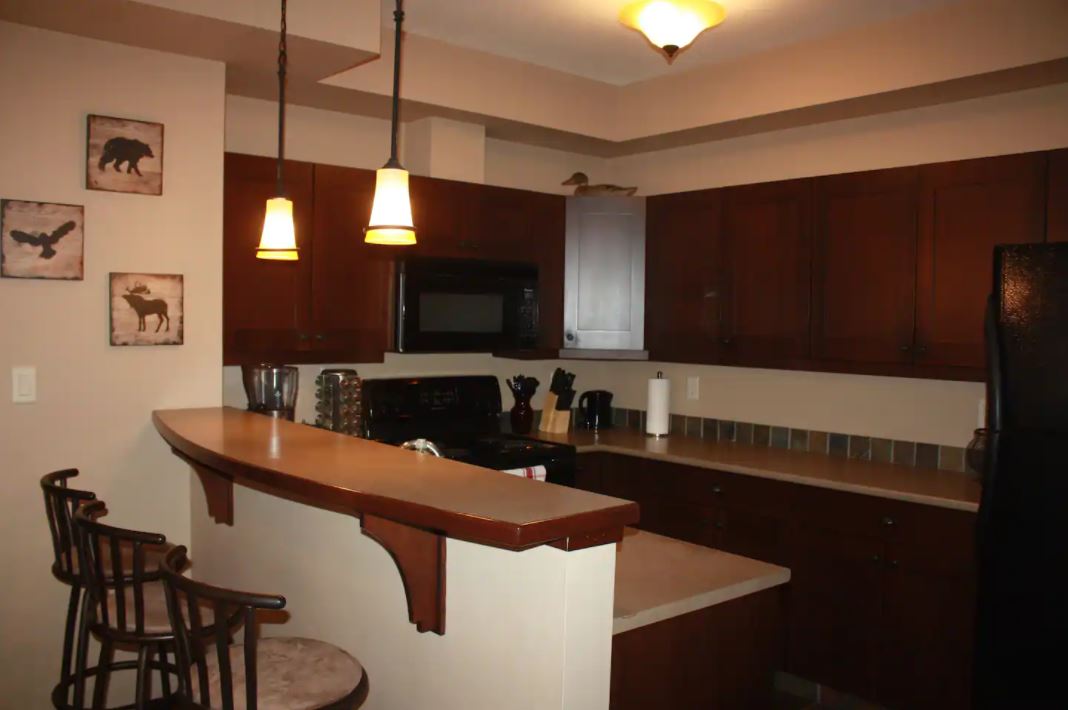 Stone's Throw slopeside condo with well stocked kitchen
- well-stocked kitchen with plenty of cupboard space
- bar counter with 3 stools
- supplied with all you need to prepare amazing meals
- open concept with slate floors
Master bedroom with private ensuite and access to the patio and hot tub
- spacious master bedroom with queen size bed 
- comfy mattresses & pillows with high-quality linens
- patio with access to your private hot tub 
- warm lighting with mountain views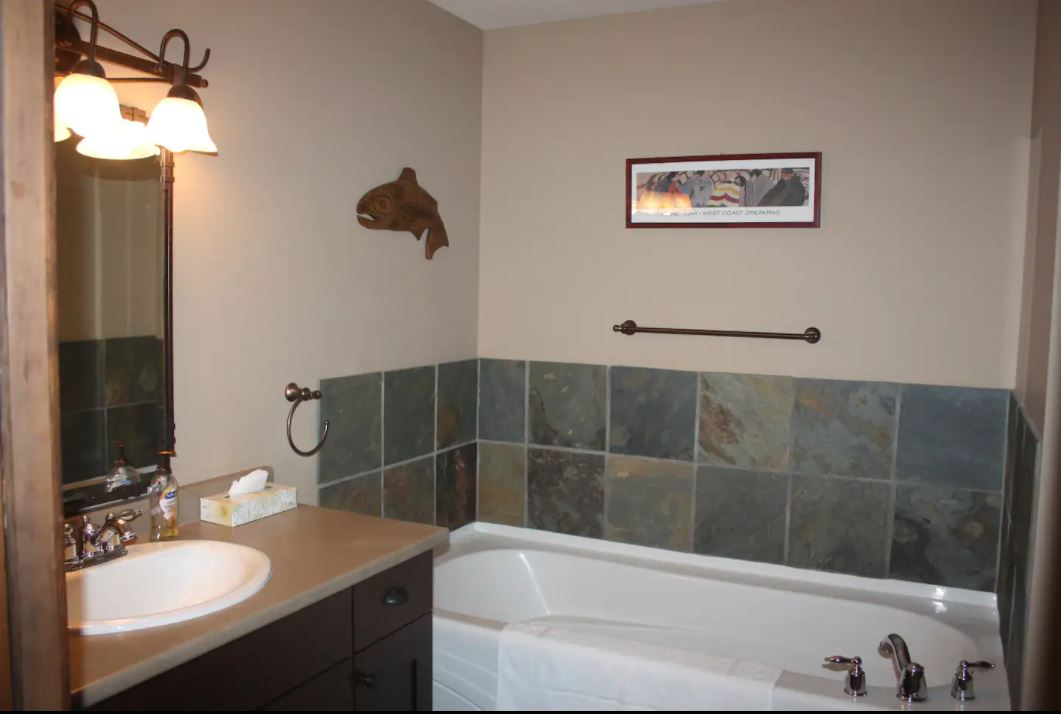 3 piece master bedroom ensuite
- lovely master bedroom ensuite

- slate floors
- insuite laundry
- soaker bath tub and separate shower








Stones Throw 2nd bedroom with twin over queen bunk
- comfortable and spacious 2nd bedroom with twin over queen bunk bed
- soft carpeting
- nearby 3 piece bathroom
- comfortable mattress and pillows with luxurious new linens
- lots of natural light and wonderful views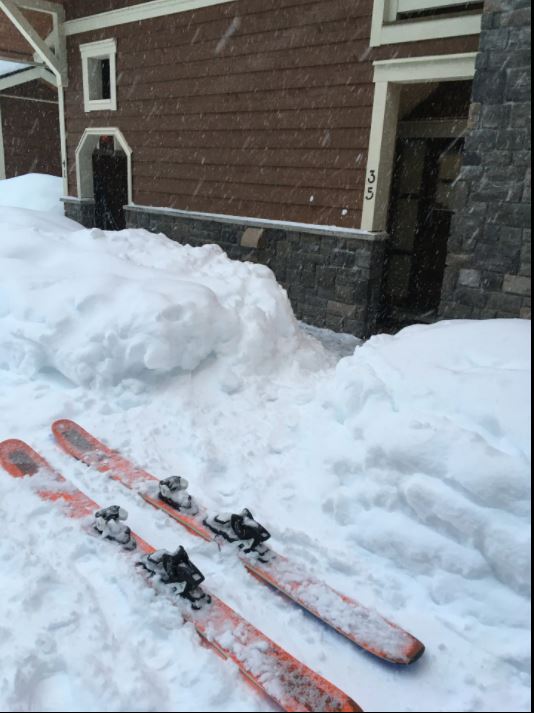 Ski-in/Ski-out can't get any better than this!
- exterior ski/snowboard ski locker

- access to the Orient and Morrisey chairlifts is just 20 steps from your front door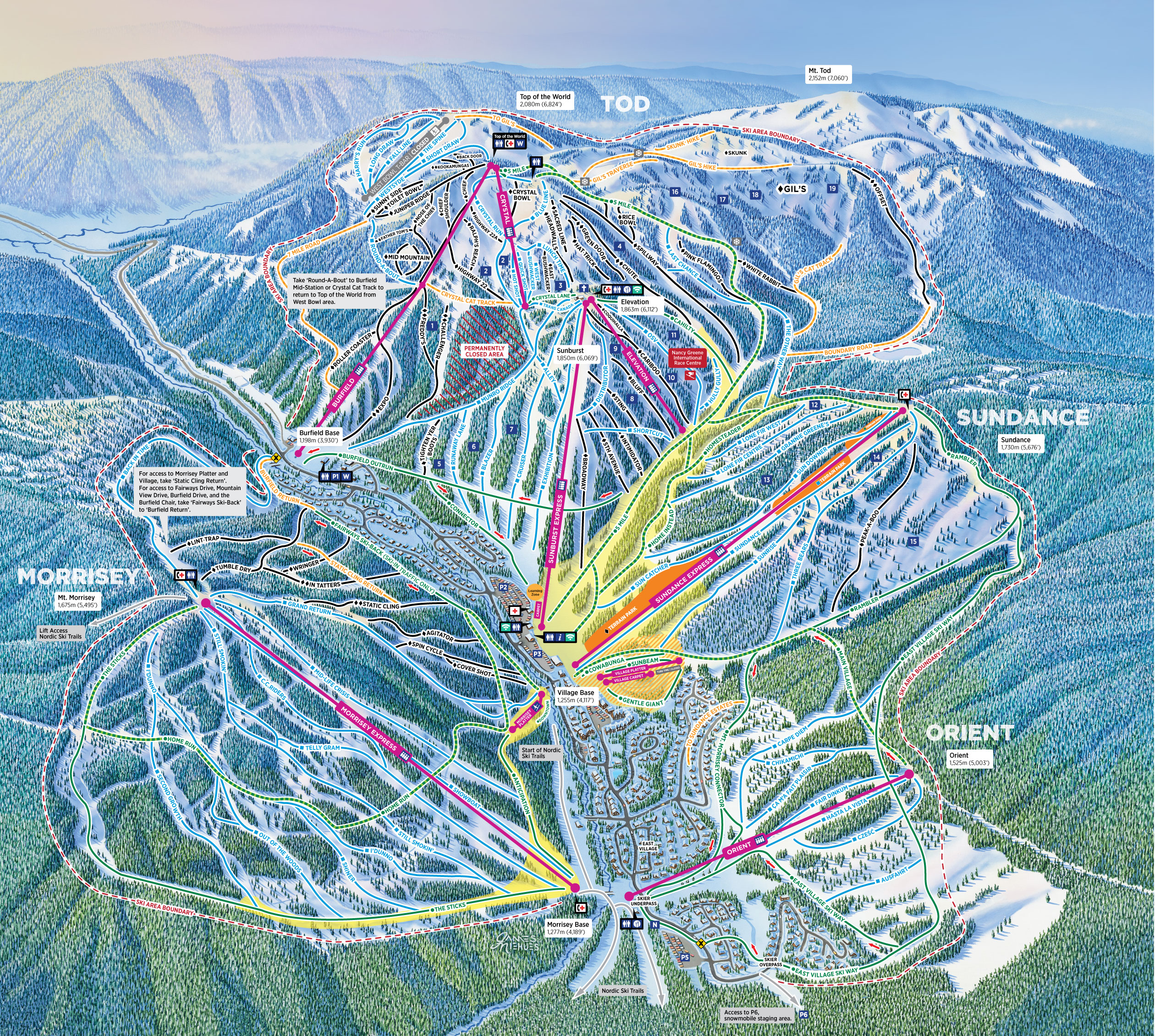 - easy access to ski-in/ski out routes (ski right to your door at the end of the day)
- 4,270 acres of skiable terrain, 2nd largest alpine ski area in Canada
- 2,800+ feet of vertical
- 2000+ hours of sunshine and 230+ inches of famous champagne powder each year
- affordable lift passes, multi-day passes and season tickets
- 138 trails and growing, including 19 gladed areas, 13 lifts, and minimal line-ups at any time!
- Many winter activities for all levels of skiers and for non-skiers
- four season outdoor paradise with many spring, summer and fall activities as well
---
Stone's Throw Slopeside Condo Nightly Rates
Guests may book direct with the owners for best rates and will avoid having to pay the hidden VRBO and AirBnb booking fees that saves you 10-20%. 
April 18 to June 30      $135  (2023)
July 1 to Sept 9            $145
Sept 9 to Nov 16          $135
Nov 17 to Dec 15         $235
Dec 16 to Dec 21         $320
Dec 22 to Dec 27         $2,550 (5 night block)
Dec 26 to Jan 1            $2,700  (4 night block)
Jan 2 to Jan 26             $360 (2024)
Jan 27 to Feb 15          $400
Feb 16 to Feb 25         $470
Feb 26 - Mar 1            $400
Mar 2 to Mar 30          $360
March 31 to April 13    $220  
April 14 to May 31       $135
All prices are per night. Plus applicable Taxes
3 Nights minimum stay except 4 Nights minimum stay January to March 31
Weekly discount 5%, monthly discount 10%
Cleaning Fee $200/stay
Damage Deposit - refundable $ 750

Complete and submit the Sun Peaks Slopeside Condo contact form below for final pricing and availability inquiries direct from the owners of this beautiful condo.
25% deposit required to confirm the reservation, balance is due 30 days prior to arrival.
No smoking, no large gatherings or parties.
No pets
Cancellation policy: Full refund for cancellations up to 30 days before check-in. If booked fewer than 30 days before check-in, full refund for cancellations made within 48 hours of booking. After that, 50% refund up to 7 days before check-in. No refund after that.

NO OTHER SERVICE FEES APPLY  FOR THIS VACATION RENTAL (such as on VRBO and AirBnb)


---
---
---
Stone's Throw Sun Peaks 
Calendar & Availability
---
Sun Peaks Stones Throw -  Houfy Vacation Rental Site
We are pleased to have this beautiful slopeside 2 bedroom Stone's Throw Vacation Rental listed on a new site called HouFY (House For You), which provides an easy to use, unique and enhanced experience to list or find vacation rental properties.  It is similar to VRBO/Homeaway and Airbnb, except better since there are no booking fees or communication restrictions, which will save you 10% or more. 
Houfy is easy to use and you can save money on many properties around the world and book your vacation rental direct with the verified owners using this growing rental community platform.

Contact the owners directly for information on this condo using the contact form.  If you require other quotes too, we are happy to help.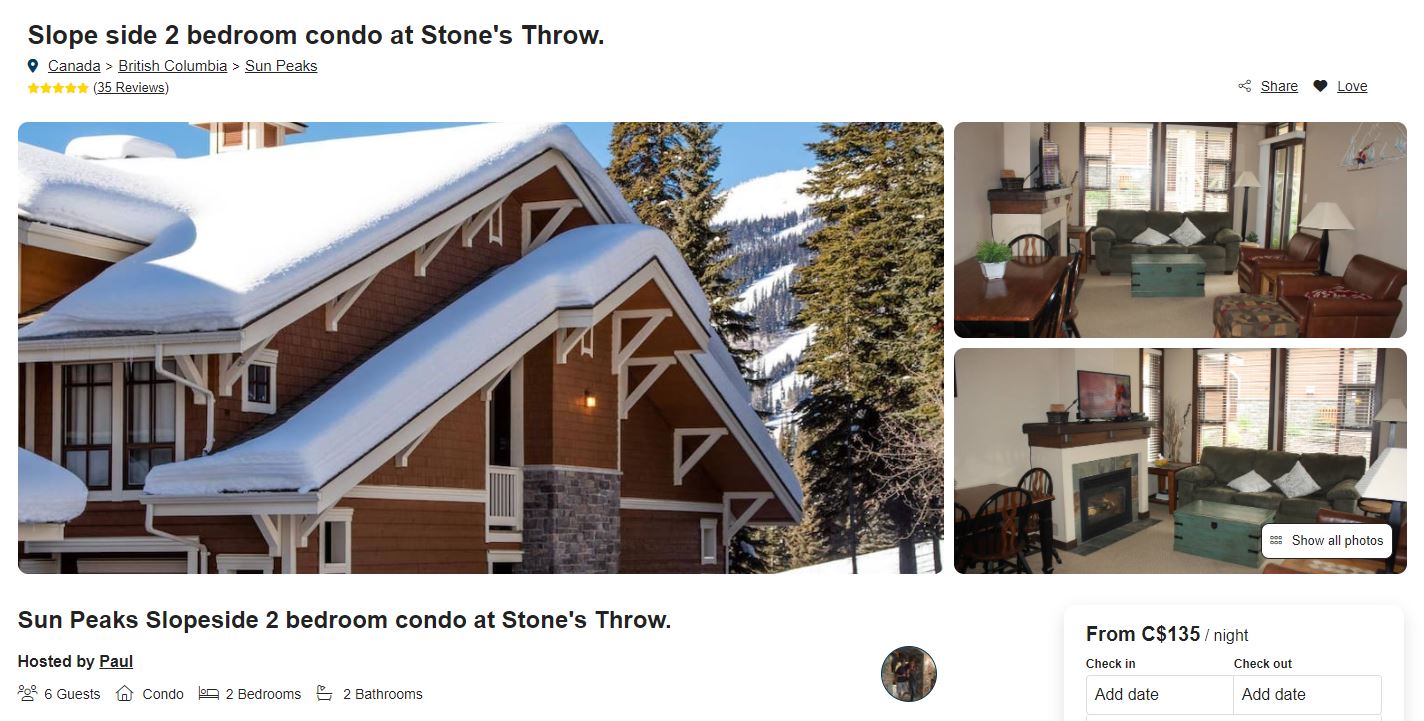 View the Slopeside condo on Houfy - no booking fees
Contact us if your preferred dates are unavailable, or if you wish to look at other options where you can save up to 10% on dozens of other Sun Peaks rental condos, townhouses or chalets managed by Top of the Mountain.
We work with other Sun Peaks Vacation Rental by Owners as well - contact us with your accommodation needs and we will do our best to help.
See another Stone's Throw 2 bedroom condo 

See our 3 bedroom Stone's Throw condo
Return to Best Sun Peaks Vacation Rentals
Return to Best Sun Peaks Home page