2023 Sun Peaks Changes - What's New & What's Gone?
There weren't many exciting 2023 Sun Peaks changes to report, especially for those more interested in winter sports and activities than summer fun.
However we will summarize what we know so far below, starting with Sun Peaks changes for skiers and snowboarders and others who love to play in the snow.
New Ski Run in the East Village Area on Sundance Mountain
Kia-Ora to be located to the right of Ausfahrt
A new intermediate ski run has been added to the right of 'Ausfahrt' on Sundance Mountain for the 2023/2024 season, and in keeping with their international theme, the new blue run is called 'Kia Ora'.
Kia Ora is a Māori-language greeting which has entered New Zealand English, which translates literally as "have life" or "be healthy", wishing the essence of life upon someone, from one speaker to the other.
We can't wait to check it out as we ski back in to our Best Sun Peaks Vacation Rentals in the East Village area at the end of a fantastic day on the slopes!

---
Stunning View Photo Op Stop - Top of the Sundance Chair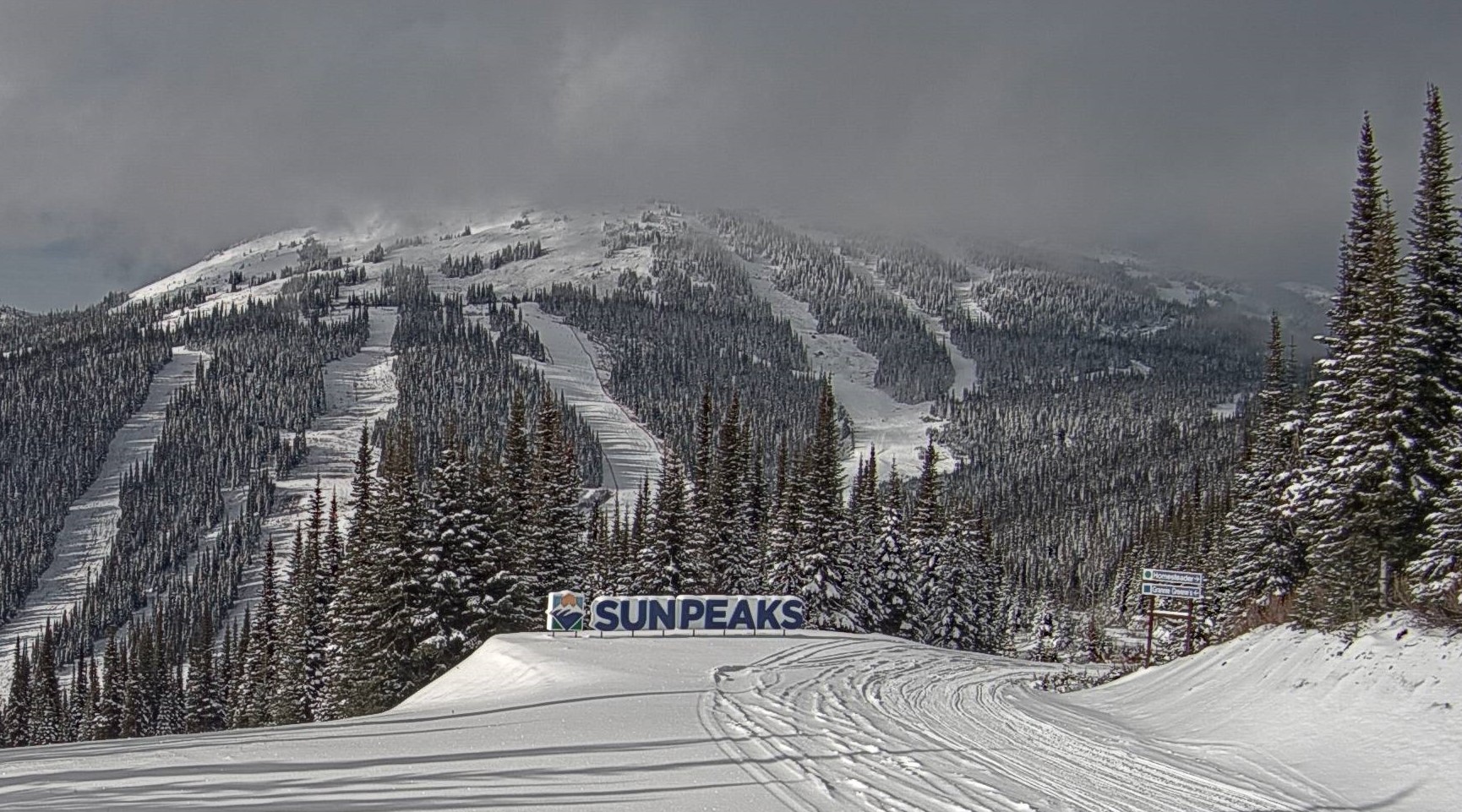 The addition of this extended viewing area and new Sun Peaks signage at the top of the Sundance Chairlift makes for a great 2023 Sun Peaks change and will provide a stunning backdrop for your family or group photos.
And if you're skiing solo, it will even make for an awesome selfie location!
---
New Shuttle Bus To/From Kamloops, the Airport Or Other Resorts
We are pleased to welcome Peaks Shuttles as a great new Sun Peaks Shuttle Bus service provider, just in time for the 2023/24 winter ski season.
Peaks Shuttles has been providing outstanding service to guests in the Valemount Resort area since 2016 and has now expanded to begin offering exceptional service to and from Kamloops and Sun Peaks.
Their 14 passenger modern shuttle vans are equipped with cargo trailers for ski gear and extra luggage, have studded tires for extra safety, and offer various shuttle bus services including pick-up and drop-off at your Best Sun Peaks Vacation Rentals with a schedule accommodating most airport arrivals and departures, Kamloops Blazer home games and Inter-Resort transfers.
Get our Sun Peaks Shuttle Bus Discount Code to save on shared or private shuttles.
---
New Kid Zone and Additional Glading - more to come!
A new "Bears Lair Kid Zone" can now be found on the popular "Three Bears" ski run on Sundance Mountain this winter, according to the resort. The experience follows a simple storybook arc with a beginning, middle and end, with kids greeted by a variety of bear characters as they travel through the lair.
This is the first of four Kids Adventure Zones that will be located around Sun Peaks Resort in subsequent winter seasons, each following a "forest friends and dwellers" theme.
The slopes crew have also been busy enhancing gladed areas near Three Bears and Peak-A-Boo on Sundance, with additional glading happening over near the Orient chair area.

---
West Bowl Ski Area - can't wait to explore the bowl area again!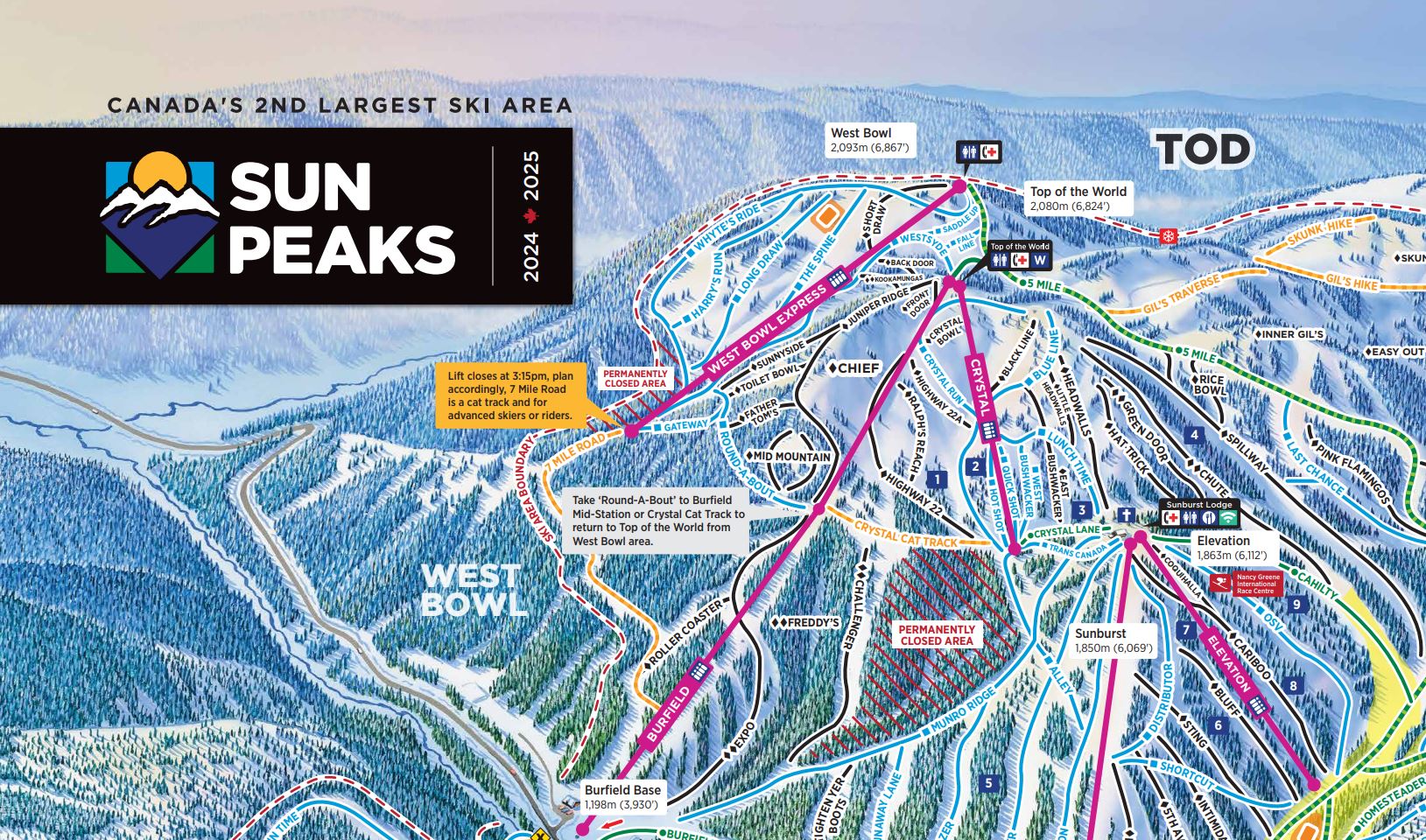 New West Bowl Lift for the 2024/25 ski season
Perhaps the most exciting of the 2023 Sun Peaks changes is the addition of the West Bowl Express chairlift which was formally announced by Sun Peaks Resort in April, 2023 as the long-awaited replacement for the infamous West Bowl T-bar that was removed several years earlier.

It will once again be supplied by Doppelmayr, but unlike the new Orient and Crystal chairlifts which were fixed grip quads, the new West Bowl Express will be a higher speed detachable quad and will come at a cost of around $12 million.

The new 1,600 meter long higher-speed detachable lift (5m/second and just under 6 minutes to get to the top) with 1,000 vertical feet of elevation gain begins taking guests to the highest elevation area of Sun Peaks in time for the 2024/25 ski season.

While it is within the current resort boundaries and won't open up any new terrain area, it will create a nice increase in the length of the current runs in the West Bowl area.

---
New Owner for Sun Peaks Snowmobile Tours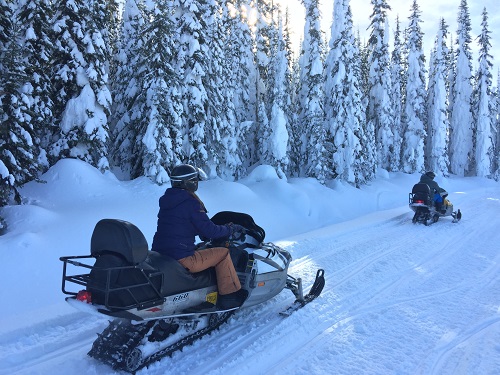 Sun Peaks Snowmobile Tours are so fun!
The Sun Peaks snowmobile tours are a fantastic way to explore the beautiful Sun Peaks backcountry area, and Andy Matusky was the driving force behind these wonderful adventures. But it looks like he is finally retiring and the snow mobile tours have moved to another very popular Sun Peaks tour operator, Mountain Man Adventures (MMA), who is the owner of the wildly popular Sun Peaks dog sled tours.

Operations and rates will generally remain the same as when they were previously operated through Sun Peaks Resort with only a few minor scheduling changes. Tours will be offered five days a week at 9:30 and 13:00, and will be closed on Monday & Tuesday.
All tours will be two hours long. MMA are thrilled to be taking on this new project and hope to enhance what was already a uniquely fun and amazing Sun Peaks experience!
Custom and 4 hour tours can perhaps be arranged in January when enough snow has fallen lower down, for groups of 4 snowmobiles or more.
---
New 'Owner Direct' Vacation Rental in Settler's Crossing
Great new Settler's Crossing Vacation Rental
New to the Sun Peaks short-term vacation rental pool and to Best Sun Peaks - this 2 bedroom condo in Settler's Crossing is perfect for couples or small families.
Ski-in/out to/from your front door in this great condo located in the East Village area. Access is via Morrisey or the Orient lifts, and this home is right across the road from the free toboggan hill, snowshoe trailheads, Nordic ski trails, and the mountain biking trails and Sun Peaks golf course in the summer.

Book direct through us and save 10-20%.

We now have access to over 80 different vacation rentals, from convenient and affordable hotel-style studio suites, to luxurious and wonderful 6 bedroom chalets - Book your Sun Peaks Accommodation Today!.

---
Voyageur Bistro Is No More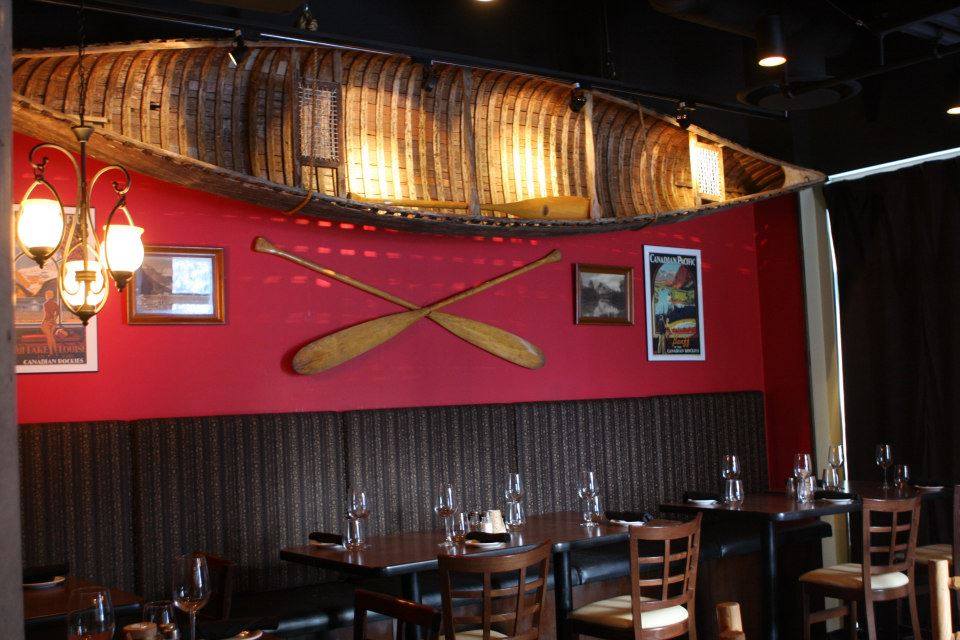 We were very sad to hear that the Voyageur Bistro was forced to close down when their lease wasn't renewed.  Located just across from the Village in the Kookaburra Lodge, the Voyageur was one of the favorite Sun Peaks restaurants for us and our guests from around the world.
With the traditional French-Canadian voyageur interior theme and inspired dishes, we loved their Tortierre, bannock, and other unique dishes. Their drinks were great too!
Kevin Tessier and his team always made us feel very welcome and we will certainly miss them.  
---
2023 Sun Peaks Changes – Summer Fun!
---
Disappearing Sun Peaks Go Karts
No more silent zoom zoom from Sun Peaks Go Karts
Perhaps the most noticeable change, and the most disappointing change to us, was the removal of the Sun Peaks Gravity-fueled Go Karts.
This was a popular summertime activity that we loved watching as we chilled at one of our favorite Sun Peaks patios.
The resort was very quiet about their permanent removal, but I'm guessing the extra staff and costs to operate the go cart track was more costly than the revenue they generated.
The space has now been incorporated into the ever-expanding and very popular mountain biking terrain and progression park area.
---
Sun Peaks Disc Golf Course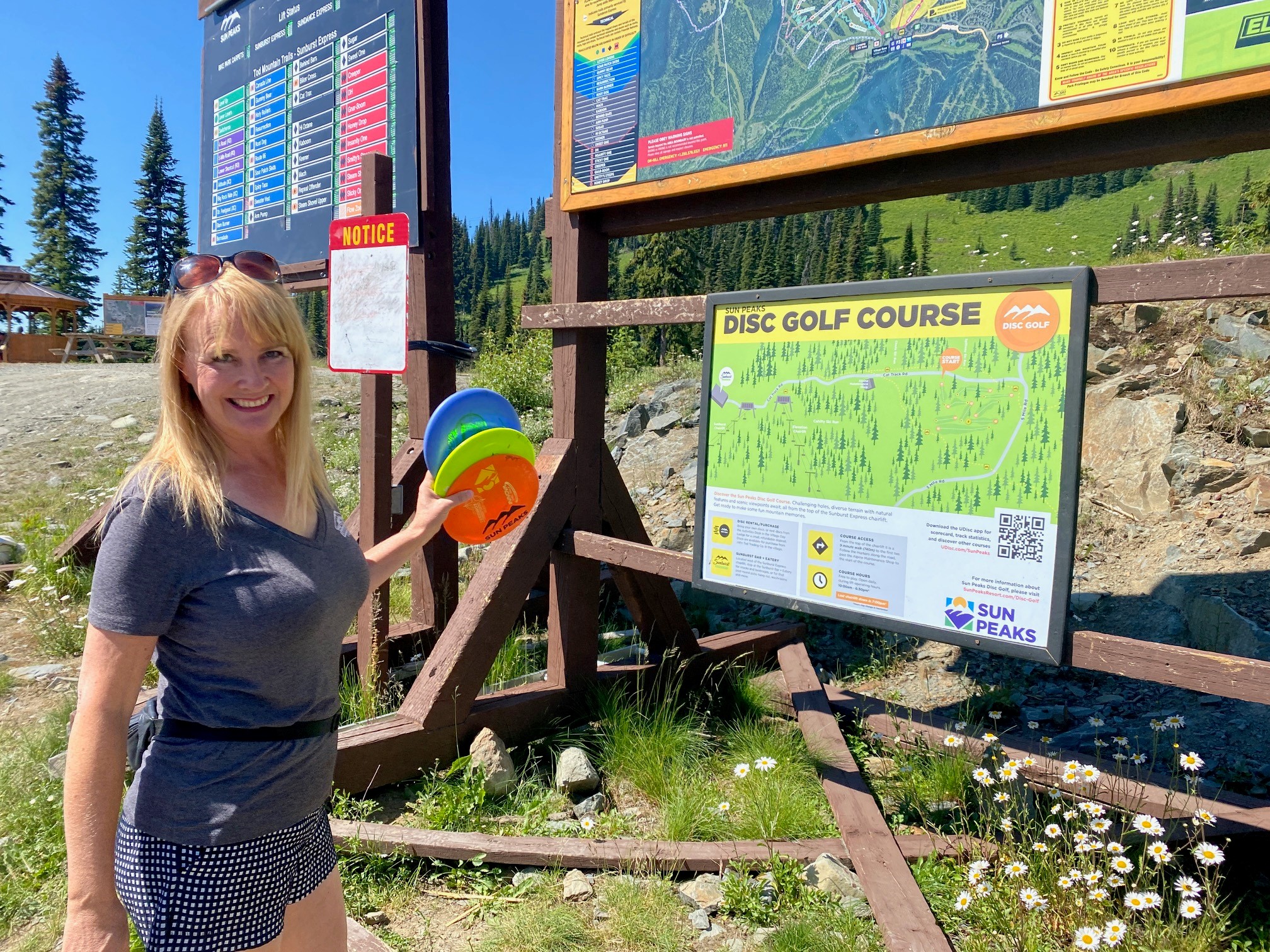 Sun Peaks Disc Golf Course is a lot of fun!
As part of the 2023 Sun Peaks changes, Sun Peaks now has a 9 hole Disc (frisbee) Golf course and it is a lot of fun to play!
It is another 'free to use' Sun Peaks activity that is good for the whole family to enjoy and is set amongst the trees at the top of the Sunburst chairlift - it is a great way to get some exercise while enjoying nature and the beautiful mountain views!
The plan is for it to be an 18 hole course in the future.
Discs are available to rent (for free though) from the Sun Peaks Activity Desk, with a deposit required which is refunded when you return the frisbees.
---
Pickleball and Tennis Courts – Moved & Improved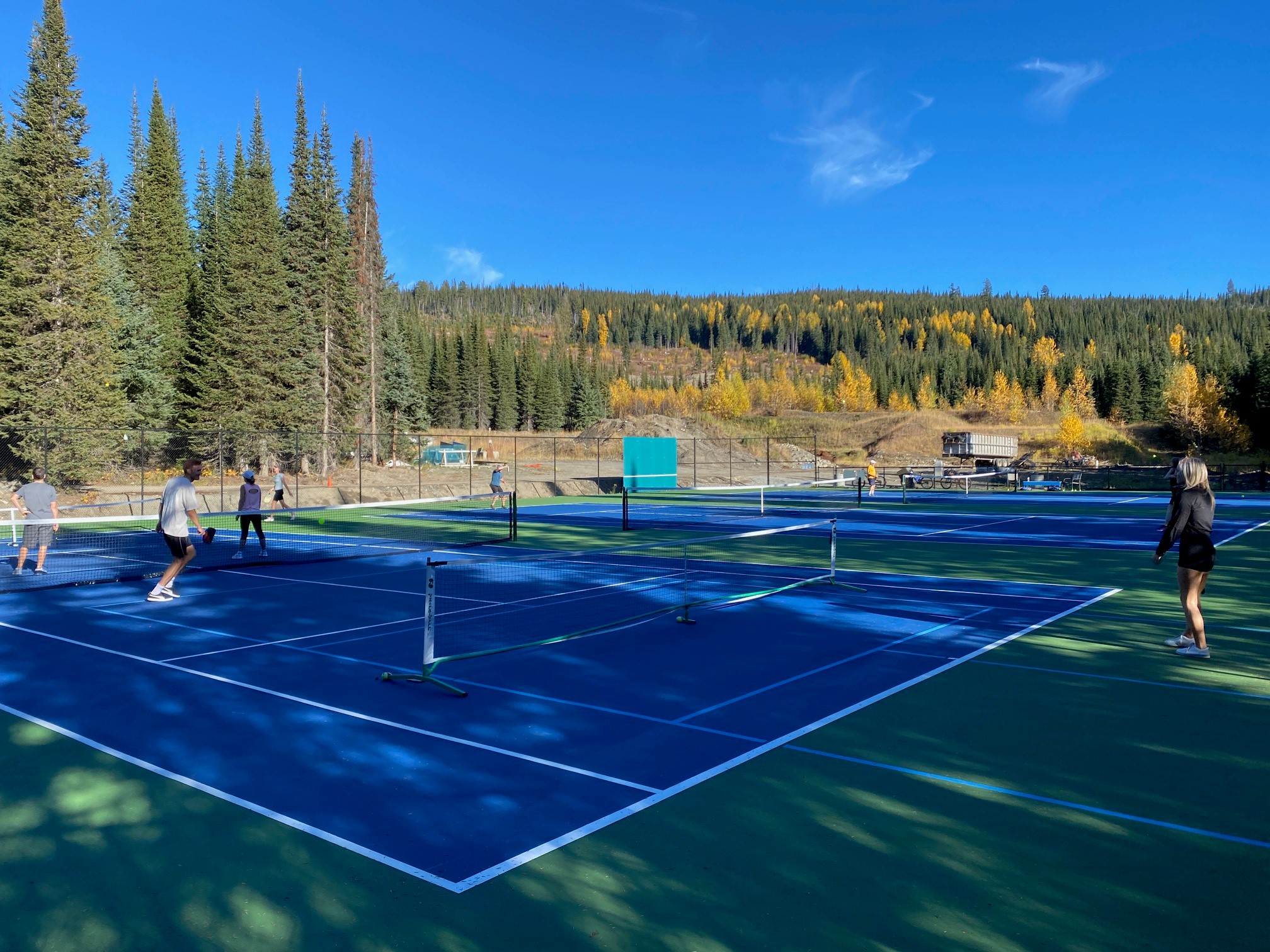 Sun Peaks now has dedicated Pickleball courts
Pickleball players rejoice! As part of the 2023 Sun Peaks changes, the old Sun Peaks tennis courts (next to the swimming pool) have now been torn up to make way for the new Sun Peaks Community Plaza which opened in October, 2023.
The new tennis courts and designated Sun Peaks pickleball courts are now open over in the east village area, east of the P5 parking area (and our Echo Landing, Settler's Crossing and Stone's Throw Vacation Rentals).
There are now two new tennis courts, as well as a third tennis court which has been set up as two Pickleball courts. 
For those who haven't tried it, pickleball is a lot of fun for all ages and is considered one of the fastest growing sports in North America.

---
New Community Gathering Place & Play Area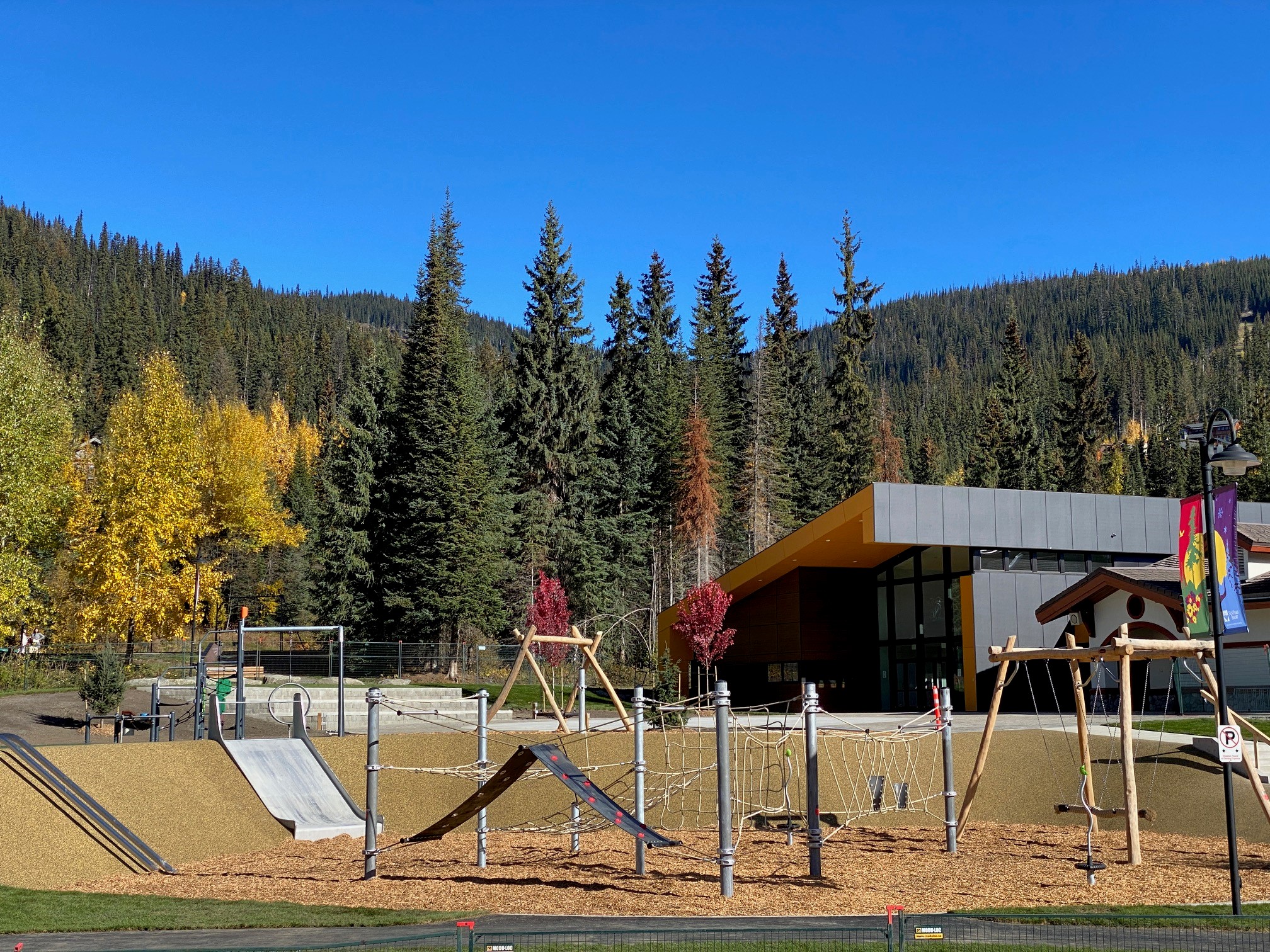 Sun Peaks Community Gathering Place now open
An adventure playground and gathering place opened in the fall of 2023, adding to the already impressive ice skating rink, meeting space, and gym at the Sun Peaks Centre.
The playground features the latest playground designs and features, including a Cocowave pendulum swing and a challenging rope course, and is accessible year-round to enhance Sun Peaks' family-friendly charm. The new community space is free to use for children of all ages.
It is right next to the Sun Peaks Community Swimming Pool, which is expected to finally reopen in 2024.
---
Mountain Biking Mecca!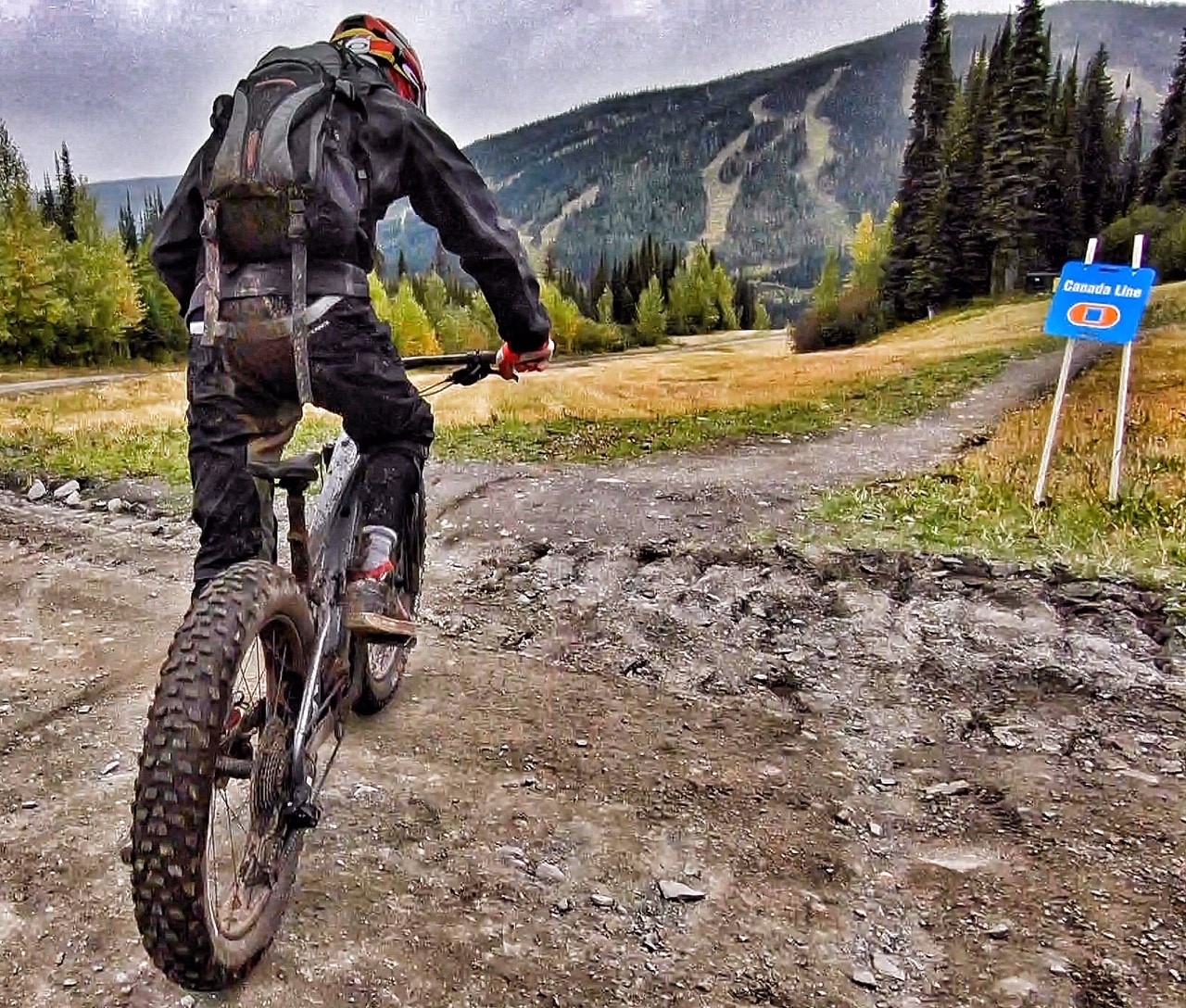 Sun Peaks continues to grow as one of the best summer mountain biking destinations in BC, and perhaps even in Canada!
The resort continued the expansion of both the lift-accessed trails (now on both Tod and Sundance Mountains) as well the 'free-to-use' pedal accessed trails over on Mt. Morrisey in conjunction with SPRTA (Sun Peaks Recreational Trails Association).
The progression trail at the base of Tod and Sundance Mountains has also continued to grow and improve, ensuring there are trails for all ages and abilities for mountain biker shedders to enjoy. 
---
Return to Best Sun Peaks Home page
Book your Best Sun Peaks Vacation Rental